The OPTIMESS CSD is a phase-based laser scanner with highest precision. It offers a measuring rate of one million points per second with up to 100 profiles per second. The special feature of the OPTIMESS CSD is its extreme compactness and low weight. Nevertheless, it is built extremely robustly – typical for OPTIMESS – and guarantees the highest reliability and durability. The intelligently controlled window heater prevents the protective windows from fogging up in high humidity, for example when entering a tunnel. An air-knife (blow-off device) is also integrated as standard, which permanently protects the windows from soiling. In contrast to the OPTIMESS CS, the OPTIMES CSD has an additional measuring field towards the bottom. This means that either one or two 60° scan angles are available.
Characteristics
One million measuring points per second
Up to 100 profile scans per second
Measurement range up to 20 m
Insensitive to sunlight
Compact and light
Robust, protection class IP 67
Temperature -20 to +50 °C
Blow-out function to keep the windows clean
Interface
The sensor is connected via a robust UltiMate™ connector from Fischer® that complies with the IP68 standard even when unplugged. Both the power supply and the data transfer are routed via the same cable.
The measurement data is transmitted via GigE and can be easily processed using the SDK supplied.
Applications
The OPTIMESS CSD can be used wherever a surface is to be measured in two or three dimensions.
It is often used for measuring the contact wire.
The CSD is ideally suited for simultaneous detection of the contact wire and the rails. This eliminates the need for compensation. No calibration is necessary either. This makes it ideal for simple, precise and reliable measurement of the contact wire height as well as the lateral position.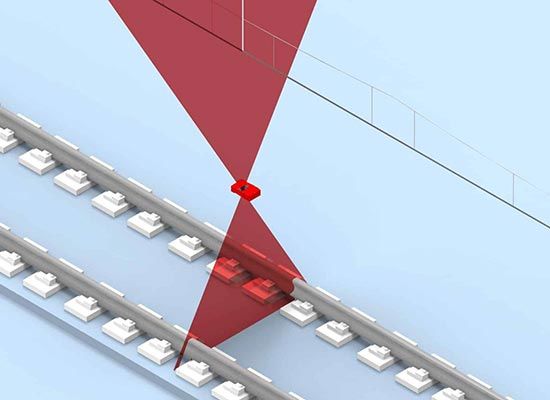 For additional safety, a customised protective housing is offered. In addition to the mechanical protection, the internal ventilation provides an even wider temperature range.
IP65 (also when unplugged)
Passive PoE, Ethernet 100/BASE-T
*1 sigma value at 5m measuring distance, target white (80%), measuring rate 200 kHz
**In the measurement range 0.5 … 5 m, above ±10 mm
Protection type

IP67 (even when unplugged)

Interface

Passive PoE, Ethernet 100/BASE-T

*1 sigma value at 5m measuring distance, target white (80%), measuring rate 200 kHz
**In the measurement range 0.5 … 5 m, above ±10 mm
Switzerland
Stegackerstrasse 14
CH-8409 Winterthur
Tel +41 52 577 50 77
Fax +41 52 235 15 59
China
A 5008, Yandong Mansion
No.2 Wanhong Xijie
Chaoyang District
Beijing 100015
P.R. China
Tel +86-10-64343566
Tel 400-068-2068 (China only)
France
Bureau de liaison France
11, rue du Mittlerweg
68025 Colmar
Mob +33 (0)6 63 88 77 55
Tel +33 (0)3 89 20 63 34