The new OPTIMESS 2D light-section sensor enables high-precision measurement of surfaces and profiles. Even the most difficult conditions are no problem for it. Whether in icy cold or with great vibrations, the sensor feels right at home in harsh environments. Even the most difficult surfaces, such as reflective rails or deep black tyres, are processed by the OPTIMESS HLS without any problems. The large range of measuring fields, which extends up to a line length of 2 metres, is also special.
Characteristics
Measurement ranges from 100 mm to 2500 mm distance
Line length from 80mm to 2200 mm
2048 measuring points per profile
Extremely resistant
Waterproof (IP67)
Wide temperature range from -20°C to 50°C
Scan rates up to 12'000 Hz
Insensitive to sunlight
Interface
The sensor itself is connected via two robust Fischer® connectors that meet the IP67 standard even when unplugged. One connector is used for data transmission via Gigabit Ethernet. The other connector is used for power supply and various trigger inputs and outputs. An API for common environments such as .NET, C, LabVIEW and Delphi is supplied for customer integration.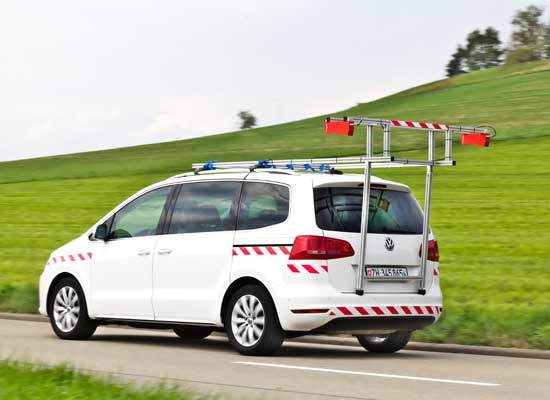 Wherever high reliability with high measurement quality is required, the OPTIMESS 2D HLS is used.
Typical applications are:
Railway

Rail measurement
Contact wire measurement
Rail bed
Wheel profile
Wheel roundness

Road surveying

3D surface profile, longitudinal waviness
Surface roughness
Various optional components are available. Protective housing with, for example:
Pneumatic slider for protection when not in use
Heating for very low temperatures
Blow-out function to keep the windows clean
But also small connection boxes with DIN rail mounting for easy wiring.
In addition, special solutions are also feasible even for small quantities. Customer-specific measurement ranges or different housings can be provided on request.
An IMU can also be integrated to compensate for sensor movements.
Software options are also available, such as an algorithm for calculating the position of the rail head.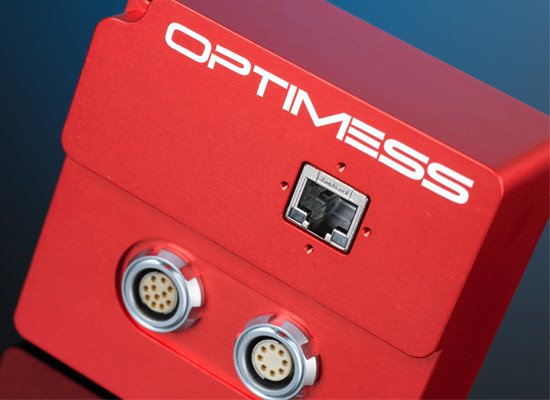 Measurement ranges
A wide variety of measurement field sizes are available. The basic types are listed below.
In general, a smaller range must be selected between the start of the measurement field and the end of the measurement field. For example, for the basic type 4025: Measuring field from 350-450mm.
Measuring field start

2025
3025
3016
4025
4016
6025
6016
20012
Measuring field end

2025
3025
3016
4025
4016
6025
6016
20012
Line length start

2025
3025
3016
4025
4016
6025
6016
20012
Line length end

2025
3025
3016
4025
4016
6025
6016
20012
Line resolution

2025
3025
3016
4025
4016
6025
6016
20012
Standard deviation

2025
3025
3016
4025
4016
6025
6016
20012
Length

2025
3025
3016
4025
4016
6025
6016
20012
Width

2025
3025
3016
4025
4016
6025
6016
20012
Thickness

2025
3025
3016
4025
4016
6025
6016
20012
Weight
2025
3025
3016
4025
4016
6025
6016
20012
OPTIMESS 2D HLS OMS 166xx
OPTIMESS 2D HLS OMS 166xx
OPTIMESS 2D HLS OMS 166xx
IP67 (even when unplugged)

more than 100'000 Lux (sunlight)

-20°C to 50°C (optionally extendable to -40°C)

EN 61000-6-2, EN61000-6-4, EN 50121-3-2

450nm (standard), 660nm, 405nm

OPTIMESS 2D HLS OMS 166xx
Humidity

Protection rating

IP67 (even when unplugged)

Ambient light

more than 100'000 Lux (sunlight)

Vibration

Shock

temperature range

-20°C to 50°C (optionally extendable to -40°C)

EMC

EN 61000-6-2, EN61000-6-4, EN 50121-3-2

Environment, security

Approvals

Class

Wavelength

450nm (standard), 660nm, 405nm

Supply voltage

Power

Interface
Switzerland
Stegackerstrasse 14
CH-8409 Winterthur
Tel +41 52 577 50 77
Fax +41 52 235 15 59
China
A 5008, Yandong Mansion
No.2 Wanhong Xijie
Chaoyang District
Beijing 100015
P.R. China
Tel +86-10-64343566
Tel 400-068-2068 (China only)
France
Bureau de liaison France
11, rue du Mittlerweg
68025 Colmar
Mob +33 (0)6 63 88 77 55
Tel +33 (0)3 89 20 63 34